Check Out This New Restaurant in Mount Pleasant
The Mount Pleasant neighborhood of Washington, D.C., is home to many culinary options. With offerings like Ell­ē's cool coffeehouse, bakery, bistro and bar in the home of former local favorite Heller's Bakery; Corado's quick-bite Guatemalan comfort food offerings; SABYDEE Thai & Lao Cuisine small plates; China Town's Chinese eatery for noodles, fried rice, and other familiar takeout fare; Angelico Pizzeria's shop for specialty pizza pies, calzones, pastas, and other Italian standards; and the Marx Café Revolutionary Cuisine restaurant for Greek and Italian fare, it's safe to say the area is home to a variety of ethnic foods — and a new hot spot is on the way.
Set to open by November 2018, Mount Pleasant is preparing to welcome a new Mexican restaurant to its ranks: Amparo, which translates to "refuge" or "shelter." The brainchild of founder, head chef and culinary consultant Christian Irabien Gamboa, the upcoming underground restaurant will feature a taste of authentic Mexican cooking and give patrons a glimpse into what it's like to dine or drink in a traditional Mexican eatery or bar.

Christian Gamboa: Chef, Consultant and Restaurateur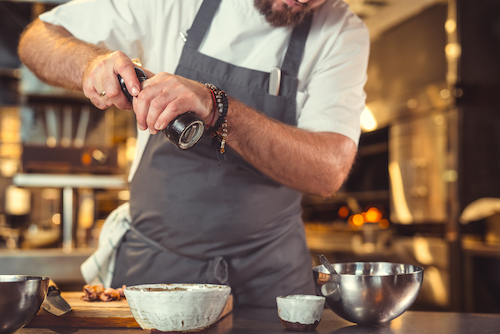 A classically trained chef, Gamboa has a rather eclectic background. He was raised in Chihuahua, Mexico, studied liberal arts at the University of Texas at El Paso, and started out as an economist staff assistant at the International Monetary Fund in Washington, D.C., before eventually transitioning into the culinary arts.
Gamboa attended the Art Institute of Washington to obtain his associate degree in hospitality and culinary arts management, furthered his training by studying business administration at Northern Virginia Community College, then achieved certificates in both communications capacity building and training and facilitation to ensure he could address all aspects of leadership and business management. Nearly all his time in restaurants has been spent feeding the greater D.C. metro area.
After getting his start at Georgetown's Hook seafood restaurant and D.C.'s Oyamel Cocina Mexicana, Gamboa moved up to a back-of-house operations manager and sous chef at The Eat Good Food Group in Alexandria, then spent more than three-and-a-half years as a senior back-of-house manager for ThinkFoodGRoup managing logistics, event planning, and execution for in-house and off-site events. He transitioned to a role as an executive chef and operations manager for Calavera Mexican Kitchen in the fall of 2014, then served as the culinary program director and executive chef of his own bilingual culinary training nonprofit startup, La Cocina VA.
Gamboa is now a hospitality operations consultant and executive chef throughout the D.C. area, managing back-of-house operations, logistics, systems implementation, chef training, team organization, menu development, and more. His most recent role: the creator of coastal Mexico-themed Amparo, which is coming soon to Mount Pleasant.
Amparo: The Perfect Gathering Place
Chef Gamboa's newest endeavor — and his first solo project — Amparo will be largely unremarkable at street level. Those looking for the space at 3110 Mount Pleasant Street NW will have to keep their eyes peeled for the subterranean eatery, which will feature just 35 seats, a bar, and a smaller-than-average kitchen. Much like traditional restaurants and bars in Mexico, signage will be minimal, and the entire space will be easy to miss if one isn't looking for it.
"You come downstairs and don't really know what you're getting into," Gamboa told Eater Washington D.C. in a recent interview, calling the place an "if you blink, you miss it" kind of joint.
Most important to him is that his restaurant can be easily differentiated from the watered down Mexican restaurant experience so prevalent in North America, avoiding "low-quality versions of recreations of Mexican product," and keeping as close as possible to the authenticity he grew up knowing and loving. The restaurant will feature a retractable backyard roof, plenty of plants, and a ton of concrete — all of which will add to an authentic Mexico feel, and inspire the lost-in-Mexico-City vibe he's hoping to achieve. It will play American music, like hip-hop and punk rock, sung by Mexican bands to bridge the gap between its inspiration and actual location.
A Menu That's Like a Vacation
With a goal to open the restaurant's doors by November 2018, and a driving goal to save the unexciting Washington, D.C., Mexican food scene by infusing a level of previously unseen authenticity, Amparo aims to provide its guests with a taste of the coastal regions of Mexico. As a native, Chef Gamboa wants his restaurant to give local diners the opportunity to experience authentic Mexican fare.
While its menu is still under construction, Gamboa recently launched a pop-up featuring handmade noodles with corn truffle and wild mushrooms, leading many speculators to hope that more such items will be coming soon. He told Eater that Amparo would stay away from the "taco situation," instead of offering more modernized items among traditional favorites like al pastor or tortillas.
Gamboa helped open a Mexican restaurant in Oakland, California, back in 2015, and was amazed at the difference proper produce and well-sourced ingredients could make in a menu. He can't always opt for the Mexican crops he'd prefer to use but will look to utilize local goods created in the D.C. area when creating his menu and preparing Amparo's daily offerings.
Something else Gamboa has already narrowed down? The bar and its accompanying offerings. He plans to provide many imported Mexican items — wines from Valle de Guadalupe, spring waters, lemongrass for teas, plenty of mezcals — and to work with small family co-ops that work to preserve the Mexican agave crops.
Amparo will be open for lunch and dinner services, as well as for brunches. Traditional Mexican brunches often last for hours, according to Gamboa, and offer plenty of churros, coffees and other goods — all of which he intends to replicate.