What to Do In Mount Pleasant This Summer
Summer is right around the corner, and that means it's time to get outside and enjoy the warm weather.
Washington, D.C.'s Mount Pleasant neighborhood is home to plenty of things to do during the hotter months of the year, ranging from festivals, events, and concerts to hiking, kayaking, and other ways to be active in the community. We've put together a quick guide filled with can't-miss summer fun to help you make the most of the next few months in Mount Pleasant and around the metro D.C. area.
Attend Local Festivals and Events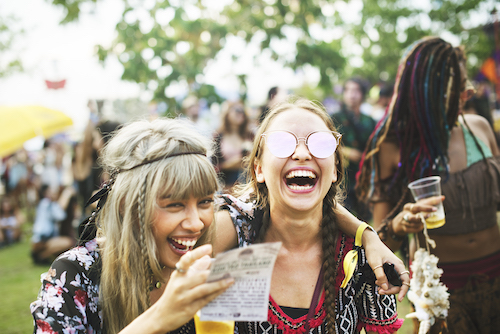 Washington D.C. is a hub for festivals and activities all year long, but the summer brings many exciting cultural and other events to the region. From music celebrations and art shows to food and culture displays, there's a little something for everyone going on during the upcoming months.
June 8 to 17, 2018: Founded in 2005 and currently the largest music festival in D.C., this annual event hosts more than 125 performances throughout the city. Its concert schedule includes the talents of more than 300 artists from the U.S. and abroad, showcasing their skills at upwards of 40 venues throughout the city.
June 15 and 29, August 10 and September 14, 2018: This monthly festival is held at The Bullpen, an outdoor food, drinks, and games venue located near the Washington Nationals baseball stadium, and features the hottest food trucks from around the D.C. area. Participating trucks vary month to month, including a wide variety of culinary styles like barbecue, chicken and waffles, crab dishes, empanadas, halal, Korean barbecue, tacos, ice cream, bao, Jamaican fare, tapas, and more.
August 18, 2018: A festival celebrating the rich intercultural diversity of the U.S. and the myriad cultures that comprise it, the annual World Cultural Food Festival is moving from its normal place at the Washington Monument to a new home at the Freedom Plaza in Downtown, D.C. It includes free admission, plenty of food and beverages from around the world, and a plethora of cultural showcases.
June 23 to 24, 2018: Guest celebrities, exciting events, music acts, and barbeque aficionados combine to create an atmosphere that's perfect for every barbeque lover. The BBQ Battle honors the American tradition of barbeque, including the Nathan's Famous Hot Dog Eating Contest, demonstrations, sampling, concerts, meet and greets with celebrity chefs and a barbeque cookoff.
June 27 – July 1 and July 4 to 8, 2018: Established in 1967, the festival honors "contemporary living cultural traditions and celebrates those who practice and sustain them," according to the Smithsonian's website. The festival takes place for two weeks, including educational, presentations featuring master artisans and traditions. Visitors experience singing, dancing, crafts, workshops, traditional recipes, question and answer sessions, and a unique cultural exchange.
Listen to Music at Some Summer Concerts
Washington, D.C., is home to plenty of concerts and musical experiences every summer, and there is already a long list of acts lined up to entertain fans of just about every genre. Here are just a few of those scheduled for the next couple of months.
Pop & Rock:
Classic Rock:
R&B/Soul:
Country:
Jazz:
Spend More Time Enjoying the Outdoors
Hugging the western edge of Mount Pleasant is the 1,754-acre Rock Creek Park, which expands for miles to the north, west, and east of the neighborhood. Rock Creek Park boasts endless walking and running trails, a tennis center, a nature center and planetarium, a golf course, an equestrian center, picnic areas, and plenty of other green spaces and historical sites like Fort DeRussy. Enjoy hours of hiking and outdoor sports, or take in the Animals of the Night Sky (June 16), Run of the Mill Workshops (June 23), Exploring the Universe (June 30) and many more.
A trip to the zoo is fun for people of all ages, and the Smithsonian's Zoo is just a short 15-minute walk from downtown Mount Pleasant. In addition to perusing the grounds, checking out the animal exhibits, and walking through the Conservation Biology Institute, D.C.'s National Zoo is also home to Solstice Saturday at the Zoo (June 23), Brew at the Zoo (July 19), Enrichment Day (August 25), Zoo Uncorked (September 13), and many other special events.
For those who want to take on some low-impact water sports action, the Key Bridge Boathouse is a 15-minute drive away. Located on the Potomac River near the Georgetown Waterfront Park, Boating in DC rents kayaks that allow visitors to escape the hustle and bustle of the city, enjoy the river sites, paddle under the Key Bridge, and pass by some of D.C.'s most iconic monuments.
Looking to get outside without going too far from your home? The Vintage has a rooftop deck that's perfect for a quiet cup of tea or getting together with your friends and family. Have a seat in one of the many lounge areas, get some sun, enjoy expansive views of Washington, D.C., or hang out with your pup at the rooftop dog run. It's a great place to both relax and connect.
To find out more about our apartments, our community, and the many other amenities we offer in our luxurious complex, please call our office at (833) 990-1145 or schedule a tour.