Take Advantage of Your Farmers Market With These Spring Recipes!
Sometimes living in a busy city like Washington DC can be a bit distracting. We can forget how it feels to flow with the seasons, and the weather can become something we have to deal with instead of work with.
We don't look at the spring rain and have any sense of what it will mean for the spring crops. In fact…what are the spring crops? How many can you name?
No need to feel guilty if you can't think of many. If you want a cheat sheet, check out this official chart that explains when different regional produce is in season, put out by the VA state government.
Did you know that what grows seasonally is actually the best thing for us? The dark bitter greens that grow in the spring help break down the heavy fats that we ate this winter — and the berries help detoxify us at the same time.
We here at the Vintage on 16th love to let our residents and other DC locals in on our favorite tips and tricks for thriving in the nation's capital! We've compiled a few of our favorite recipes below based on vegetables that are flourishing right now: beets and asparagus!
We love finding new exciting recipes that let us use our fresh market finds in exciting ways.
Try 'em out — and let us know how they turned out for you!
Beet Pesto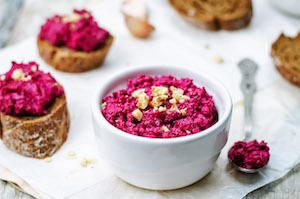 This beet pesto from Del's Cooking Twist is great for a homemade pizza, mixing into a salad dressing, smearing on some bruschetta…the possibilities are endless (but all of them are bright pink!)
Ingredients
1 cup red beets (5.3 oz, about 1 medium beet), chopped

1/2 cup (2.2 oz) walnuts

1/2 cup (12 cl) olive oil + 1 Tablespoon

3 cloves garlic, roughly chopped

1/2 cup (1.8 oz) Parmesan cheese, grated

2 Tablespoons lemon juice

Salt & pepper

Instructions
°Preheat the oven to 375°F (190°C).

Wash and scrub the beet, and pat it dry. Peel and cut roughly into cubes, then place the pieces onto a large sheet of foil. Wrap the chopped beet in foil, making a foil packet.

Place the packet on a baking sheet place onto a baking tray and roast in the oven for 40-50 minutes, or until beets are soft. Allow to cool completely.

In the meantime, roast the walnuts on all sides in a frying pan with one tablespoon of olive oil.

Add all the ingredients except the oil in a food processor or blender, and pulse several times.

Leaving the food processor (or blender) running, slowly add the olive oil until all ingredients are well combined. If the pesto is a little bit too thick, add some extra olive oil or water until desired consistency is reached. Season with salt and pepper and blend well.

Scrambled Egg and Asparagus Toasts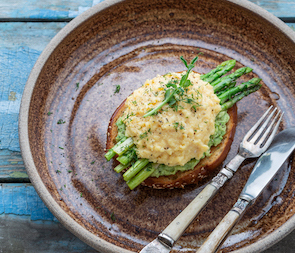 This yummy dish from foodiecrush is great for entertaining friends for brunch or making a delicious snack for yourself!
Ingredients
20-25 spears skinny asparagus about 1/4 pound

extra virgin olive oil

kosher salt and freshly ground black pepper

4 slices sourdough bread or ciabatta

3 tablespoons butter

4 large eggs

1 tablespoon half and half or milk

2 ounces havarti or swiss cheese shredded or cut into small chunks

2 ounces pancetta or bacon cooked

Instructions
Layer the asparagus on a baking sheet and drizzle with extra virgin olive oil then season with kosher salt and freshly ground black pepper. Broil in the oven for 5-8 minutes or until asparagus is lightly roasted. Set aside.

Toast the sourdough bread slices then spread with butter.

Meanwhile, whisk the eggs and half and half in a bowl. Season with a pinch of kosher salt. Melt 1 tablespoon of butter in a non-stick fry pan over medium heat and add the eggs. Let the eggs cook until the edge begins to bubble, then gently push the edges of the egg into the center of the pan with a spatula and continue to stir the eggs. When there the eggs are almost all cooked, add the havarti cheese and stir to mix until cheese is melted. Removed from heat while the eggs are still soft.

Top the buttered sourdough toasts with 1/4 each of the scrambled eggs and cheese. Top with 4-5 pieces of the roasted asparagus and sprinkle with pancetta. Serve immediately.
Let us know what you think of these recipes and keep checking the blog for more exciting ideas every week!