The Washington, D.C. area is filled with a variety of annual holiday celebrations. The vibrant history of the city provides the perfect backdrop for a wide variety of seasonal traditions, and residents of The Vintage on 16th live within a short walk or drive of many of the region's most popular displays and festivities.
From Christmas trees and light displays to ice skating and fireworks, you're sure to find something that matches your interests. Enjoying some of your favorites after the last eight months will likely make this holiday season seem extra special, too!
This guide shares tips for enjoying the displays safely while still having a good time.
Celebrating the 2020 Holiday Season in D.C.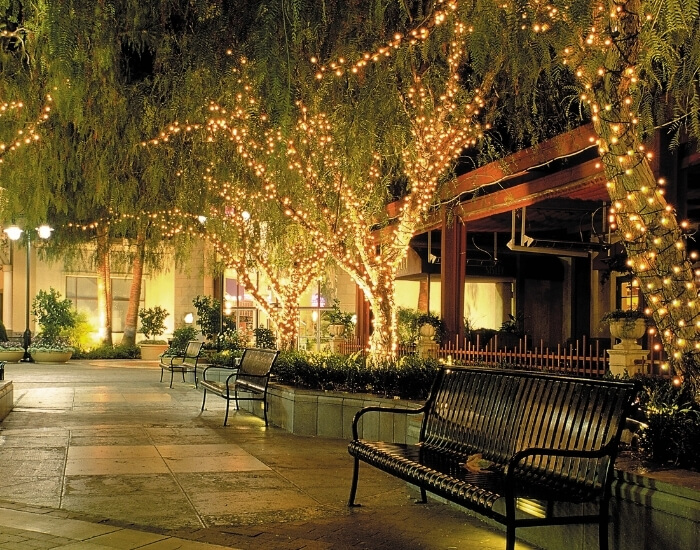 2020 has been a challenging year for the events industry, but organizations throughout Washington, D.C. area are making an effort to keep as many as possible up and running this winter. Although you may not see all of your favorites, you will still have various options for getting into the spirit. Some may have modifications to increase safety — such as lower capacities, moving indoor events to outdoors, or timed entrances — but you will likely find at least one of your favorites still going on this year.
Safety Guidelines for This Holiday Season
Current Washington, D.C. guidelines allow most types of businesses to open at 50 percent capacity, including those that host events. Although attending any gathering requires accepting the potential risk of contracting COVID-19 (or another illness), there are a few steps you can take to protect yourself and your family, like:
Following social distancing guidelines
Choosing less-crowded times to visit displays
Washing your hands or using hand sanitizer regularly
Avoiding touching public surfaces
Even with these recommendations, many types of celebrations can still be enjoyed to create a holiday season that is as normal as possible.
The Top 10 2020 Holiday Events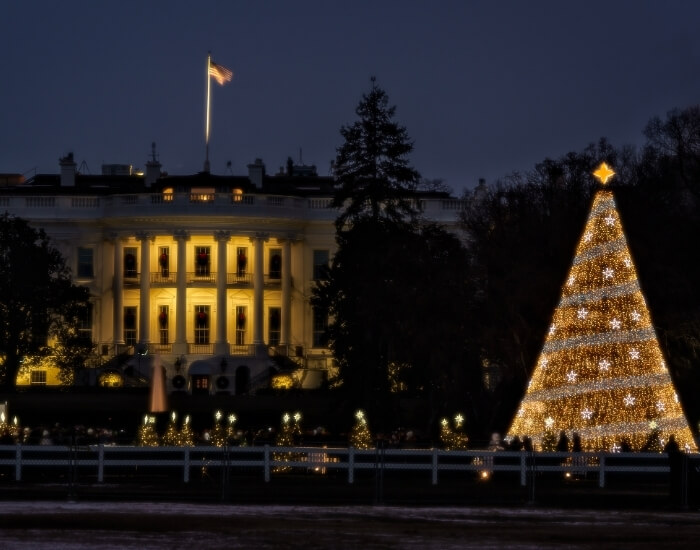 Fortunately, many of the Washington, D.C. area's most popular holiday activities and traditions are still happening in some capacity. All these events are still scheduled, according to their websites and other sources, but we cannot guarantee they will go on as planned and recommend verifying information with event hosts before heading out.
1. National Christmas Tree
Nothing says Christmas like a brightly-lit tree, and the National Christmas Tree is the most dazzling one in the country. Over 50,000 lights and nearly 500 ornaments fill the tree, which is lit at 4:30 each evening. The National Christmas Tree is a favorite tradition among both locals and visitors to the Washington, D.C. area, and it can be visited by the public from 10 a.m. to 10 p.m. each day.
2. Union Station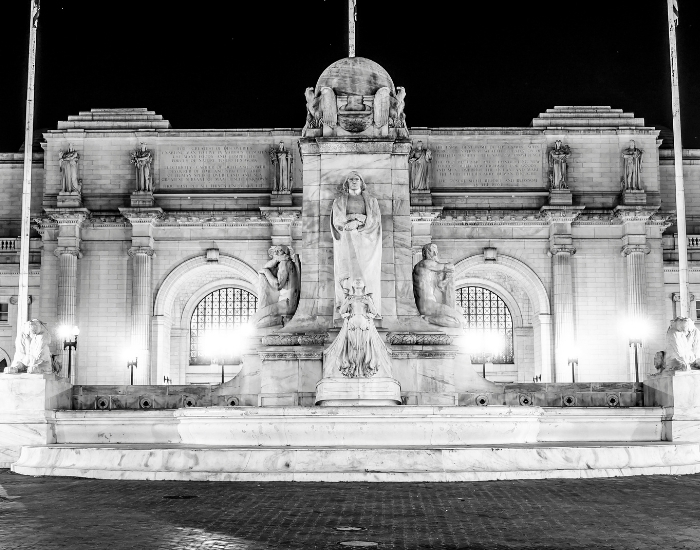 Regardless of whether you're planning on traveling this holiday season, Union Station's decorations are worth a visit. From strolling among the Norwegian Christmas Tree, model train display, and other seasonal décor to getting some of your holiday shopping done at the station's unique shops, spending an afternoon at Union Station is a fun and simple way to get into the holiday spirit. It's also easy to practice social distancing, as there are plenty of places to duck in if you want to avoid a crowd.
3. ZooLights
Everyone loves a trip to the National Zoo, but the National Zoo during ZooLights is a magical experience that will be a great time for residents and visitors of all ages. The seasonal event includes 500,000 eco-friendly LED holiday lights, live music, and animated light displays around the regular animal exhibits, and runs from November 29, 2020, to January 1, 2021.
4. Downtown Holiday Market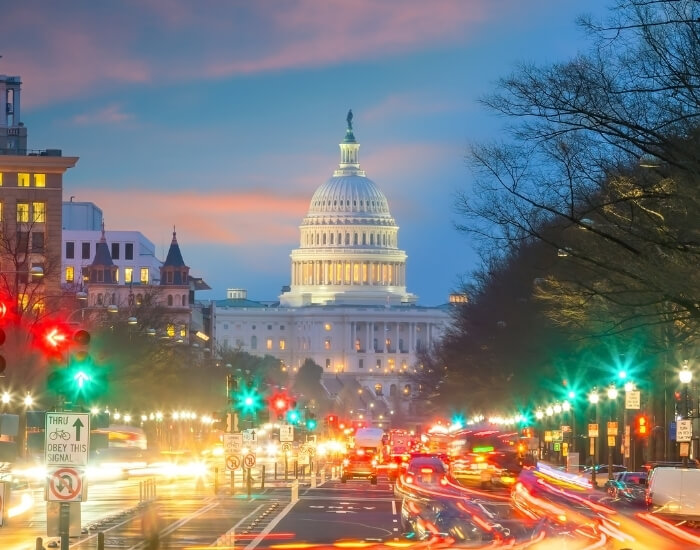 Whether you're searching for the perfect gift, new holiday decorations for your apartment or ornaments for your tree, or simply a fun and festive way to spend a few hours, strolling through the Downtown Holiday Market is a holiday tradition for many Washington, D.C. residents. The event, which is located outside the National Portrait Gallery, features more than 70 vendors and a wide variety of performances to jumpstart the holiday magic and keep your spirit bright.
5. Holiday Lights Walking Tour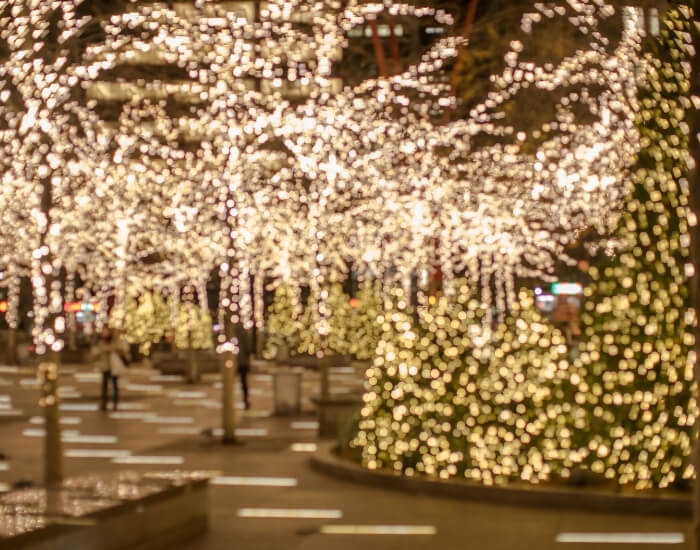 Taking a free walking tour with a small group is a unique way to enjoy the lights while learning a bit more about your neighborhood. You can choose from sites throughout historic Georgetown or go through the downtown area, which visits the Downtown Holiday Market, Macy's, the National Christmas tree, and other local favorites. Each tour is roughly 1.5 miles long and lasts approximately 1.5 hours.
6. Georgetown GLOW
For a more unique type of light display, be sure to check out Georgetown GLOW. This display showcases massive glowing sculptures set up throughout the commercial district made by local artists, which will be lit each night from 5 p.m. to 10 p.m. between December 4, 2020, and January 10, 2021.
7. Wreaths Across America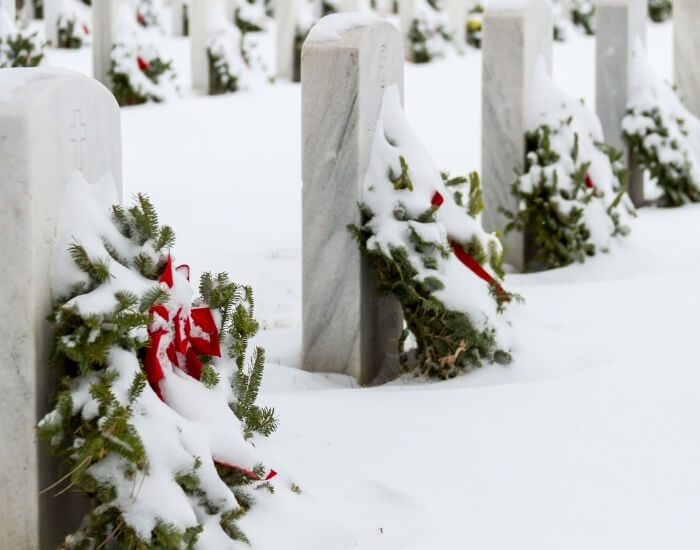 Arlington National Cemetery participates in Wreaths Across America, a nationwide program that aims to honor veterans with individual wreaths each holiday season. The wreaths are placed by volunteers following a memorial ceremony, and feature bright red ribbons to add festive cheer. Visitors to Arlington can view the wreaths beginning on December 19, 2020.
8. Celebrate the Holidays at Mount Vernon
Holiday events at Mount Vernon features fireworks displays, candlelit tours, fireside caroling, shopping, historical reenactments, hot chocolate and other seasonal goodies, and a live camel. This year's event will take place on December 18 and 19, 2020 at 5:30 p.m., and tickets start at $20.
9. Holiday in the Park at Six Flags America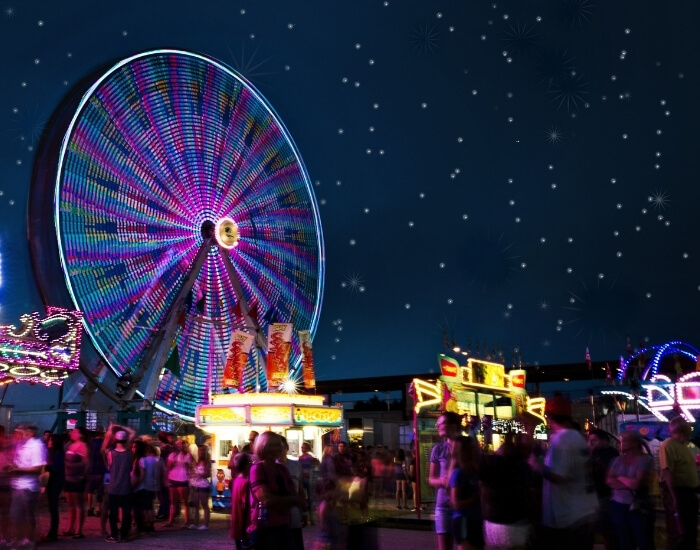 From lights and music to a wide variety of performances, Six Flags America is packed with Christmas tree displays, lights, and other seasonal touches between November 21 and January 3. The excitement will run alongside regular rides and activities on select dates throughout the holiday season.
10. Ice Skating at the National Gallery of Art Sculpture Garden
One of the Washington, D.C. area's most popular outdoor ice rinks will be opening in mid-November for outdoor holiday skating, and the season will run through early spring (weather dependent). Skate rentals, concessions, lessons, and lockers are available. The rink is open daily, and there are also many other smaller rinks available throughout the city for holiday fun.
Are You Moving to D.C. Soon?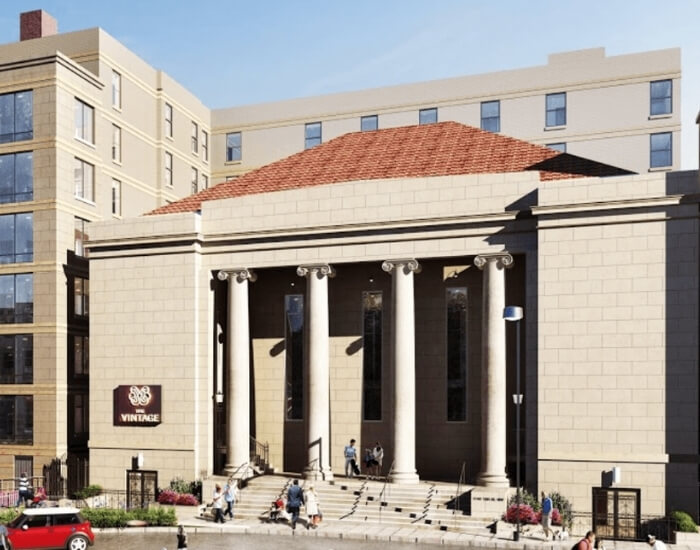 At The Vintage on 16th, we love connecting our residents to the wide variety of traditional holiday events throughout the Washington, D.C. area. Although not everyone will look quite the same in 2020, chances are you can still find several celebrations such as light displays, model train displays, Christmas tree lightings, and beyond that match your interests this holiday season.
If you're looking for a new apartment to call home, contact us today to speak with a leasing agent about any questions you have about our property! We can't wait to tell you more about what makes our location in the heart of Washington, D.C. a great place to live during the holidays and beyond!