If you are thinking of moving to Washington, D.C, or already living here and searching for a new place to call home, look no further than The Vintage on 16th. Our property is located in the heart of the Mount Pleasant neighborhood, which means the very best of the city is within easy reach.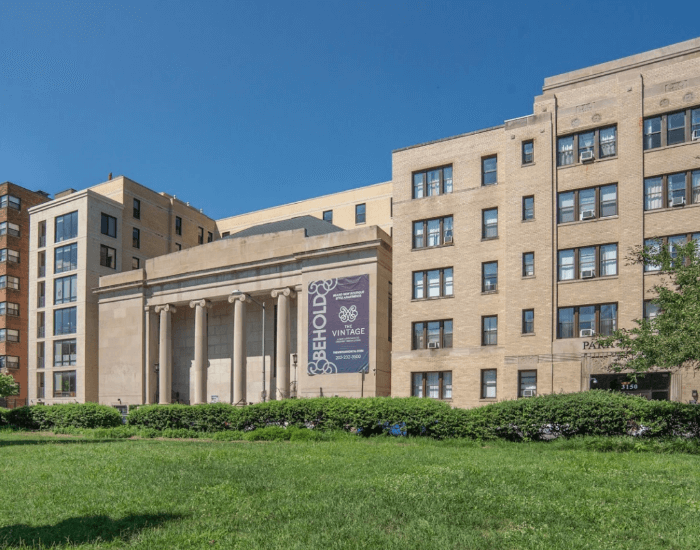 From world-class dining and beautiful hiking to professional opportunities and deep history, D.C. has it all. Living here gives you access to activities, sporting events, concerts, festivals, and a sense of community unlike anywhere else in the world. Whether you are single or trying to find the perfect place for your growing family, The Vintage on 16th offers a little piece of paradise in one of America's greatest hubs.
The Perks of Washington, D.C.
When you call the D.C. area home, you are opening up a world of possibilities. Here are a few of the reasons people love living here:
Public transportation

Washington, D.C. is a bustling city that features a reliable public transportation system to accommodate the thousands of people who commute around town. From the Metro to buses, you can always count on it to get you where you need to go for minimal cost.

Pet-friendly attractions
There are many restaurants and small businesses here that are happy to welcome your furry friends. Plus, there are a variety of dog parks around the city that will allow your pet to blow off some steam in clean, beautifully landscaped environments.

Culture and historical attractions
As nearly everyone knows, Washington, D.C. is home to attractions like the Smithsonian Museum, plenty of historical monuments, and the White House. There is literally history on every corner, and many of these attractions are completely free to visit.

Close-knit communities

Just because you live in a big city doesn't mean you can't enjoy the warmth that many neighborhood communities provide. The Vintage on 16th is proud to be part of local communities like Columbia Heights and Mount Pleasant, neighborhoods that are safe, friendly, and full of fun.

Perfect for sports fanatics
D.C. is a sports-lovers' paradise. Professional organizations like the Washington Nationals MLB team, Washington Capitals NHL team, and Washington Football Team NFL team keep fans entertained year after year, while their stadiums — such as Capital One Arena — host sports, concerts, and other events.
With so much for you to enjoy, it can be overwhelming to try to find a home base. Fortunately, The Vintage on 16th offers everything you need to live comfortably in D.C.
The Perfect Place to Call Home
At The Vintage on 16th, you can enjoy luxury living in apartments that feature the latest amenities. Our pet-friendly community offers stunning, modern designs and a variety of floor plans to suit your needs. When you call The Vintage home, you can enjoy the following:
Easy access to local restaurants

Step outside your apartment and discover incredible dining just feet from your front door. From hot brunch spots to quaint lunch places like Bad Saint, there is a wealth of options close to The Vintage.

Shopping a short walk away
Check out some locally owned boutiques in the Columbia Heights and Mount Pleasant neighborhoods. You will be supporting local business plus be guaranteed charming goods you can't find anywhere else.

Beautiful trails and hikes

Get outside and enjoy the stunning natural beauty of the area. The Vintage on 16th's location provides quick access to several hiking trails and national parks so you can easily experience the beauty of each season.

Special amenities for bikers
D.C. is a bike-friendly city with plenty of biking paths throughout. The Vintage on 16th has special provisions for bikers — including a bike room and repair station — and a 24-hour fitness center that allows you to stay in tip-top shape even when you are taking a break from pedaling.

A pet-friendly property

Whether you have a dog or a cat, we are ready to welcome them! Each apartment can have up to two pets, and our community features a rooftop dog run and dog washing station for maximum convenience. The area around our community also has a host of pet-friendly businesses and activities, so there is always something fun for you to do with your furry friends.

Floor plans to meet your needs
The Vintage on 16th features minimalist to fully furnished options for studio, one-, two-, and three-bedroom apartments. Each includes top-of-the-line amenities like soft-close cabinets, our package concierge, custom kitchen cabinetry, on-site maintenance, and much more. Our studios start at just $1,700 per month, which means you can afford to enjoy everything the city has to offer.
If you are ready to get started on your journey to peaceful living in the heart of Washington, D.C., contact The Vintage on 16th today. Our leasing experts will be happy to answer your questions, provide information about our worry-free leasing, and help you schedule a tour so you can discover our beautiful property for yourself.