The Ultimate Guide to Eating Healthy in Mount Pleasant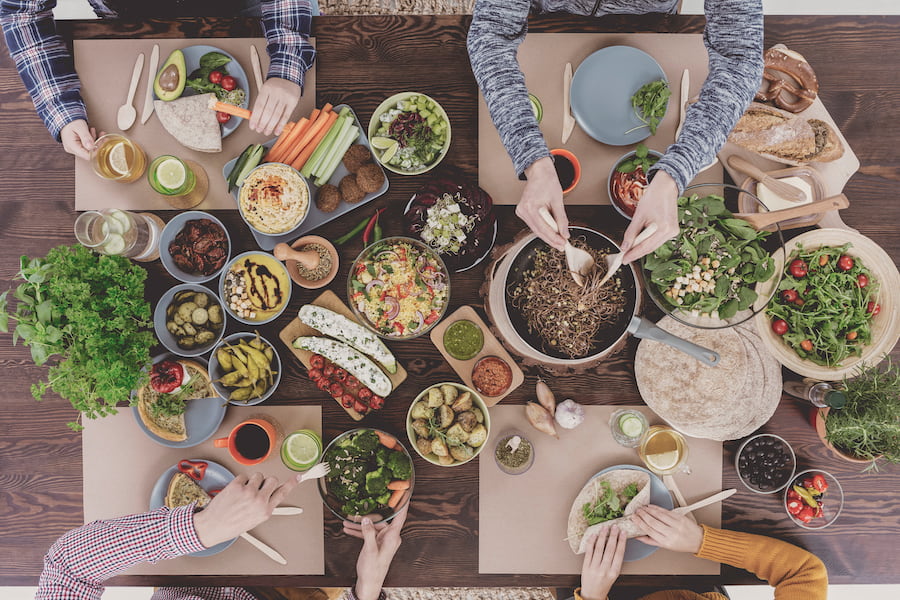 Many people set annual New Years' goals of eating healthier, but the hustle and bustle of daily life make it difficult to stick to those resolutions. A schedule filled with work demands, social and family obligations, community activities, and simply trying to take a few minutes to relax can quickly result in food being grabbed for its convenience — not its nutritional value.
With just a little planning, you can mitigate the need for fast-food burger runs and scrounging through cupboards filled with processed items. Mt. Pleasant residents are in luck, too, as several of their local restaurants offer healthy options for eat-in or takeout.
Best Mt. Pleasant Restaurants For a Quick, Healthy Bite
1. Angelico Pizza

Even pizza places offer healthier fare, and Angelico has plenty of options. Whether you're personally in the mood for dine-in or takeout Italian, or meeting friends or family for a night out, these options will keep your hunger sated without breaking your healthy eating resolutions:
Hummus dip with warm pita triangles (go easy on the pita, or ask if you can get a veggie to dip instead)

Angelico salad with romaine lettuce, artichokes, tomatoes and red onions in balsamic vinaigrette (ask for dressing on the side)

Grilled chicken salad with romaine lettuce, tomatoes, red onions, bell peppers, provolone cheese, grilled chicken breast, and balsamic vinaigrette (dressing on the side)

Grilled salmon salad with romaine lettuce, tomatoes, red onions, roasted red peppers, fresh mozzarella, grilled salmon and balsamic vinaigrette (dressing on the side)

Shrimp pesto wrap with lettuce, artichokes and feta cheese (ask for creamy pesto sauce on the side)

Veggie wrap with hummus, roasted red peppers, roasted eggplant, red onions, baby spinach, Kalamata olives, feta cheese, and sun-dried tomatoes (mayo on the side)

Peppery Portobello mushroom pasta with chicken or shrimp
2. Beau Thai

This fresh and authentic Thai restaurant is open for lunch and dinner every day of the week, including weekend brunches, and offers dine-in, carryout, and delivery services. Its chefs use a labor-intensive process to hand create its signature sauces and spice combinations, putting extra care and love into each and every dish. Healthier options include:
Garden rolls filled with vegetables, noodles, and tofu with a tamarind dipping sauce (use the tamarind sauce sparingly)

Grilled chicken salad with fresh greens and grilled chicken (go light on the vinaigrette)

Grilled vegetable salad and tofu (go light on the ginger dressing)

Papaya salad with grilled shrimp, tomatoes, string beans, crushed peanuts, and a lime dressing

Tom Kha soup with coconut milk, chicken, Thai herbs, and mushrooms

Tom Yum soup with spicy chicken broth, mushrooms, and shrimp

Yum beef grilled flank steak in spicy Thai dressing
3. Elle

This restaurant and bakery offer a rotating menu of options, often changing what it servers on a daily basis. It works hard to use locally sourced, fresh ingredients as much as possible, and its chefs put a creative spin on each of its offerings. Some of our past favorites include the quiche of the day, Tuscan kale soup, farm green salad, spicy farm apples, charred sweet potato curry, and olive oil poached swordfish, but you'll have to visit the Elle menu for a list of current offerings.
4. Mola

If you're in the mood for coastal Spanish-style cuisine, Mola is the place to be. It offers dine-in options for brunch or dinner, plus plenty of fresh menu items perfect for healthier eating. Be sure to try:
Serrano ham with marinated manchego, piquillo peppers, and olives

Chickpea puree with ground spiced lamb and

guindilla

peppers

Garlic, chili, and anchovy roasted spinach ends with Romesco sauce

Tomato and raisin braised eggplant with pine nuts and

mato

cheese

Pan-seared garlic shrimp with chickpeas, chili and tomato

Marinated pork loin with piquillo peppers over sautéed spinach with pine nuts and raisins

Grilled mixed lamb with roasted mushrooms, artichoke,

ajo

blanco

and watercress salad
5. Purple Patch

For delicious Filipino and American fare, look no further than a newer Mt. Pleasant brunch and dinner favorite: Purple Patch Food & Drink. The restaurant prides itself on offering authentic versions of traditional items from both the Philippines and the U.S., and that includes lighter food options like:
Grapefruit, mango and mint fruit salad

Greek yogurt with blueberries, pineapple, toasted coconut, and lemon honey syrup

House salad with fried tofu and lemon vinaigrette (dressing on the side)

Adobo radicchio wraps with chicken and atchara papaya salad

Grilled pork skewers with papaya salad

Baby arugula salad with shallots, shaved gruyere and lemon vinaigrette (dressing on the side)

Baby red beet and heirloom tomato salad with arugula and red wine vinaigrette
6. Taqueria Los Compadres

If you're looking for unique, traditional Mexican food, check out Taqueria. It's got a lot of fan favorites, including these healthier and lighter options
Huaraches and

sopes

Vegetarian omelet with onions, tomatoes, mushrooms, and spinach

Cecina beef with rice, beans, cactus salad, and fresh cheese

Camarones a la

diabla

– sautéed shrimp, rice and house salad

Grilled salmon with rice and a house salad

Tostada de

ensalada

de nopales

Chicken

tinga

tacos with chipotle shredded chicken

Vegetarian tacos and fish tacos
How to Eat Healthy in DC if You're in a Time Crunch
Life happens, and sometimes you don't have the option to choose a healthy meal option. In those instances, be mindful of your portion sizes and eat your less-healthy option slowly. Taking smaller bites and setting your fork down between each one will allow your stomach to register when it is no longer hungry, keeping you from overeating something that might not be great for your new healthy eating goals. Forget about wasting food or resources, either, as you can always take the leftovers home with you!