Moving to a new home involves a lot of planning, from packing to setting up utility accounts to picking up keys. There is one more item your moving checklist should contain: updating your mailing address.
It is best to take care of changing your address sooner rather than later to be sure you receive all your mail at the appropriate place. Here is how to update your address at the post office, and other businesses you will need to contact.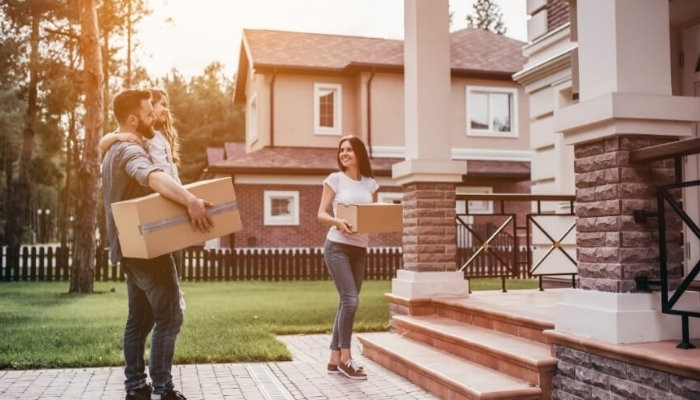 Updating Your Mailing Address: The Post Office and Beyond
Your first thought about changing your address might be to notify the post office. This is a crucial step, but it's only one of many.
Changing your address with the post office is a simple procedure that can be done online, in person or over the phone. You should also plan to update your address with your employer, your bank, and your insurance company, among other institutions.
Online
You can update your mailing address with the United States Postal Service by visiting their website and filling out their online form. Completing your change of address online is the quickest and easiest way to update your address. The post office can begin forwarding mail to your new home once you've completed the form. Here are a few things to keep in mind about the process:
Have Both Your Current and New Address On Hand
You will be asked to provide your current address as well as the address of the place you are moving to.

Know Your Move-In Date
You will be asked for a start date for the mail forwarding service. You can list the day you plan to move or even a few days before if you'd like your mail to be rerouted sooner.

Have Your Credit Card Ready
USPS charges a fee of $1.05 when you update your address online.

Make the Change for Family Members
You can update the mailing address of other family members at the same time if you share the same last name. You will need to fill out a separate form for each person who has a different last name.

Update Your Voter Registration Information
After you have filled out the online change-of-address form, you will also have the option to update your voter registration information.
In Person
You can stop by your nearest post office and request a moving packet in person. Inside the packet you'll find PS Form 3575. Fill out this form and return it to the post office worker or drop it in the mail slot.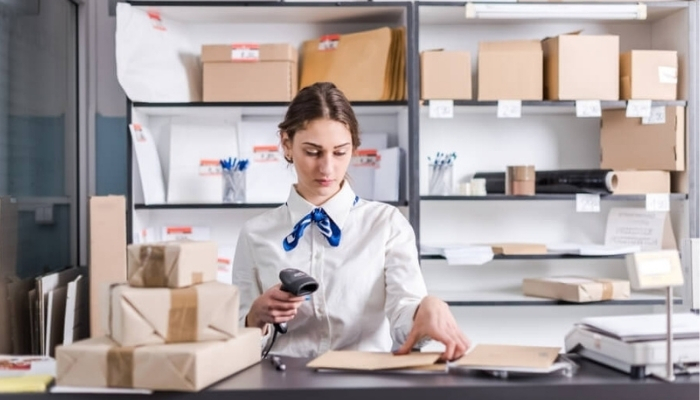 If you change your address in person, you will not be charged the $1.05 verification fee. You can expect a confirmation letter at your new mailing address within five business days.
Over the Phone
It's also possible to update your mailing address over the phone. Call 800-ASK-USPS and follow the prompts. USPS will charge a $1.05 fee for address changes made over the phone.
Additional Places to Update Your Mailing Address
There are other important institutions and vendors who need to know about your new address. You may need to contact the following with your new contact info:
Your Bank
In most cases, a change of address can be completed online. Check your bank's website or call your local branch for more information on updating your contact information.

Your Employer
Contact your manager or your company's human resources department. Let them know you're moving to a new address and that all relevant communications should be sent to your new home.

Other Lending Institutions
Notify any lending institutions of your new address so you don't miss any important communications regarding a mortgage, car loan, or other loan.

Your Insurance Company
Let your insurance company know about your upcoming move if you've got a homeowner's insurance policy, an auto policy, personal property insurance, or renter's insurance. In most cases, policies can easily be transferred to your new address.

Utility Companies
Contact utility companies to close out your account for your former home and transfer service to your new address, if applicable, so they can send you any relevant paperwork such as final bills or confirmation of canceled service.

Recurring Vendor Shipments
Any vendors that are sending you recurring shipments, such as a monthly subscription service, should be on your address update list, and you'll have to contact each one individually. Most of the time, this can be done online or via email. Call the vendor directly with any questions.

Department of Motor Vehicles
Contact your local DMV to update your address on your driver's license and your motor vehicle registration. In most cases, this can be completed online. Many states require you to update your license within 30 days of moving to your new address.
There are many organizations that will need to know your new contact info, so this list is only a first step. Changing your address with each one is usually a quick process that only takes a few minutes, so it's best to think through who else needs your contact info and get them updated quickly.
Looking for a New Home in Washington, D.C.?
The Vintage on 16th can help you with your housing needs if you're selling your home or moving out of a rental property to D.C. from another city, or if you're a local hoping to change neighborhoods or upgrade your space. We're a pet-friendly community with a range of floor plans, from studios to three-bedrooms, all in stunning modern design with high-end amenities.
Contact The Vintage on 16th if you're ready to find your ideal apartment in the historic Mt. Pleasant neighborhood.