If you've ever taken a yoga class, you probably came out of it feeling stronger and more relaxed. People of all ages, no matter their experience level, enjoy numerous physical and mental benefits from practicing yoga, including increased strength, balance, flexibility, mental clarity, and reduced stress.
In fact, a collection of 11 studies reviewed by Johns Hopkins researchers have shown that practicing yoga may reduce the risk of heart disease, aid in smoking cessation, and relieve discomfort for people with arthritis. Yoga is also known for helping reduce pain and inflammation and increasing energy and vitality.
And that's before you even consider the powerful mental and cognitive benefits associated with yoga. Many people who practice yoga describe it as a spiritual journey that helps them better understand the connection between their minds and body. Practicing yoga can also help create mental clarity and calmness, center your attention, and sharpen concentration.
Whether you're looking for another avenue for your exercise routine, searching for a fun and healthy excuse to get out of the apartment, or are looking for a new way to manage stress, you're in luck. Mt. Pleasant is home to five of DC's top-tier yoga studios, and you can take a class today.
Mt. Pleasant Yoga Studios
The DC area is home to yoga studios serving people of all ages and abilities with a wide variety of classes. As we talk about the studios operating in the area, you'll see that most are just a quick walk, jog, or bike ride from 16th St. NW, right at the center of Mount Pleasant.
Here are five yoga studios offering classes in and around Mt. Pleasant, Washington DC.
Past Tense Yoga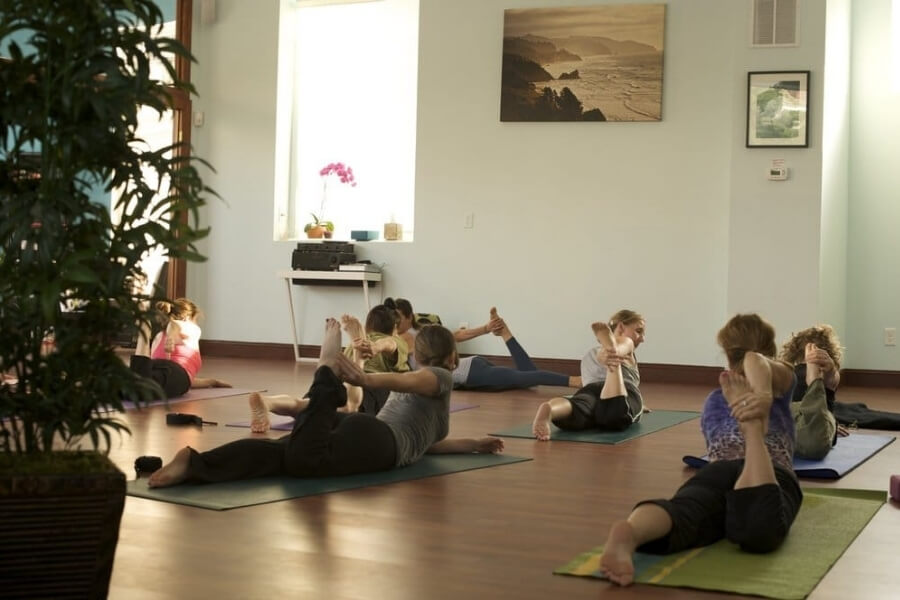 A true neighborhood mainstay, Past Tense Yoga, sits right in the heart of Mount Pleasant. For Vintage residents, it's just a 3-minute walk from our front doors via Lamont st.
Past Tense provides a welcoming and open atmosphere for students to find joy and support in their yoga practice. To that end, they offer classes for anyone, whether they are seeking greater flexibility, stress management, or even looking to achieve a deeper understanding of themselves.
They even offer pre-natal classes where moms-to-be can enjoy some safe and healthy exercise and achieve a greater connection with their body. Of course, these classes are a great way to meet other expecting moms, too.
Dragon's Breath Yoga
Another neighborhood favorite, Dragon's Breath Yoga, is less than 10 minutes on foot from the Vintage Apartments on 16th St NW. Dragon's Breath Yoga invites students of all levels to come and enjoy high-quality yoga instruction from passionate teachers.
Their focus is on offering mindful yoga based on the foundations of Forrest, Ashtanga, and Vinyasa. In addition, they emphasize creating a community where members can explore their connection to one another and feel supported and guided through their journey with yoga.
If you're looking for a local yoga studio in DC, check out Dragon's Breath Yoga and find a class that's right for you.
Embrace Yoga DC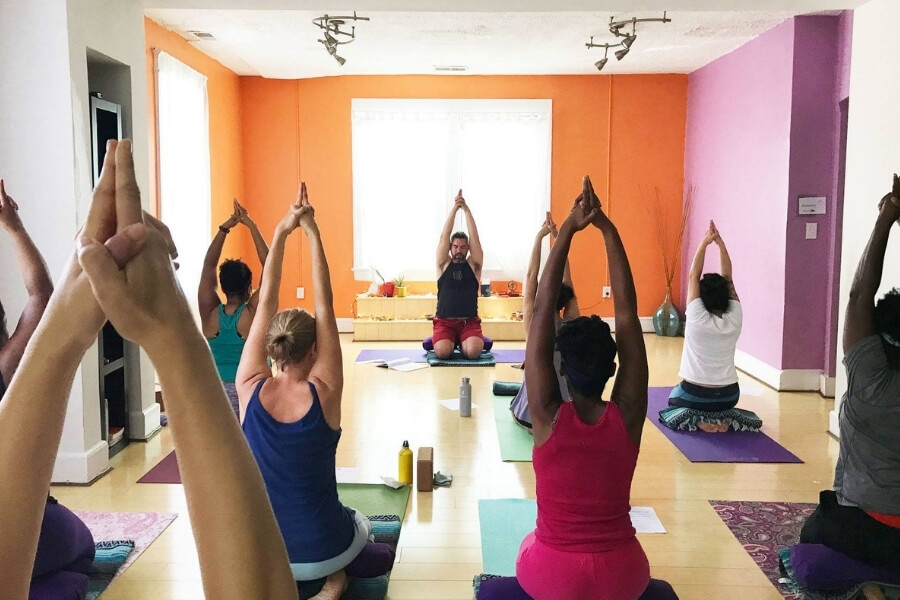 Located in Adams Morgan, literal footsteps away from Mount Pleasant, is Embrace Yoga DC, a passionate studio offering a wide variety of in-person and live-streamed classes for students of all abilities and skill levels.
Looking to guide their students on a divine journey of personal growth, exploration, and freedom, Embrace Yoga DC invites you to come, roll out your mat, and join a community of talented and inspiring healing guides and instructors.
If you're a passionate yoga practitioner and are looking to take your journey to the next level, Embrace offers 200-hour and 300/500-hour teacher training programs. These courses will give you all the skills you need to become an inspiring yoga instructor. Become a leader in your community by learning from some of the best in the business.
CorePower Yoga
CorePowerYoga brings the experience of a nationwide yoga enterprise to the DC area. With a massive variety of classes aimed at all kinds of Yogis, you're sure to find a class that facilitates achieving your physical or spiritual goals.
For those interested in attending virtual classes, it's hard to beat CorePower's $19.99/month membership giving you access to unlimited live and on-demand courses. These classes bring experienced yoga instructors right into your home seven days a week for the most convenient yoga experience imaginable.
Yoga Heights Georgia Ave.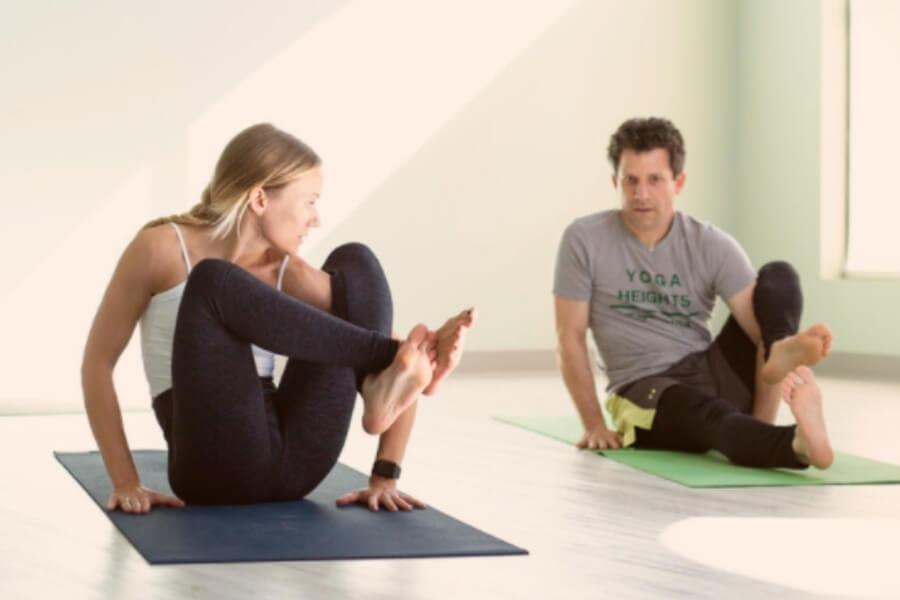 About a 20-minute walk (or 7-minute bike ride) away from The Vintage's doors, Yoga Heights on Georgie Avenue is another option for yoga and wellness in the Mount Pleasant area. Offering live and in-person classes for everybody, every skill level, and every budget, you can attend a class, workshop, or even a private lesson today.
Yoga Heights emphasizes creating an inclusive environment where anybody can strengthen their mind and body through their journey with yoga.
Strengthen Your Mind and Body with Yoga in DC
No matter how busy or how stressful life gets, it's essential to take the time to focus on your wellbeing. Yoga offers a fun and healthy way to improve your physical and mental health while being part of a tight-knit community that values diversity, inclusiveness, spirituality, and creating real and lasting connections with one another.
And those who live in Mount Pleasant are spoiled for options for taking their journey with yoga to the next level.
Get in touch with any of the studios mentioned above and schedule a class today! Whether you're just getting started or a seasoned Yogi, each of these studios offers classes that will fit your goals, schedule, and budget.
New to the Area?
If you're new to Mount Pleasant or the DC area, check out our blog for more information about all the wonderful amenities the neighborhood has to offer, tips for moving to DC, and more. Of course, if you're looking for an apartment in DC, don't hesitate to get in touch! The Vintage gives its residents the best DC living experience by putting them right in the center of all the action.