Washington, D.C., is a fantastic place to call home if you're a health and fitness buff. It's been named the nation's fittest city several times in the American Fitness Index by the American College of Sports Medicine and is still in the top 10 as of 2021.
The city is full of opportunities when it comes to staying healthy. Clean-eating restaurants abound, fitness studios are plentiful, and many hiking trails and swimming areas are open to the public. Training in any restorative discipline, from dance to yoga or martial arts, is easy to find.
Outdoor fitness classes are a fun option when weather permits. They also provide a slew of health benefits in addition to physical activity. This easy-to-follow guide details some of the best outdoor fitness classes in D.C.
Benefits of Outdoor Fitness Classes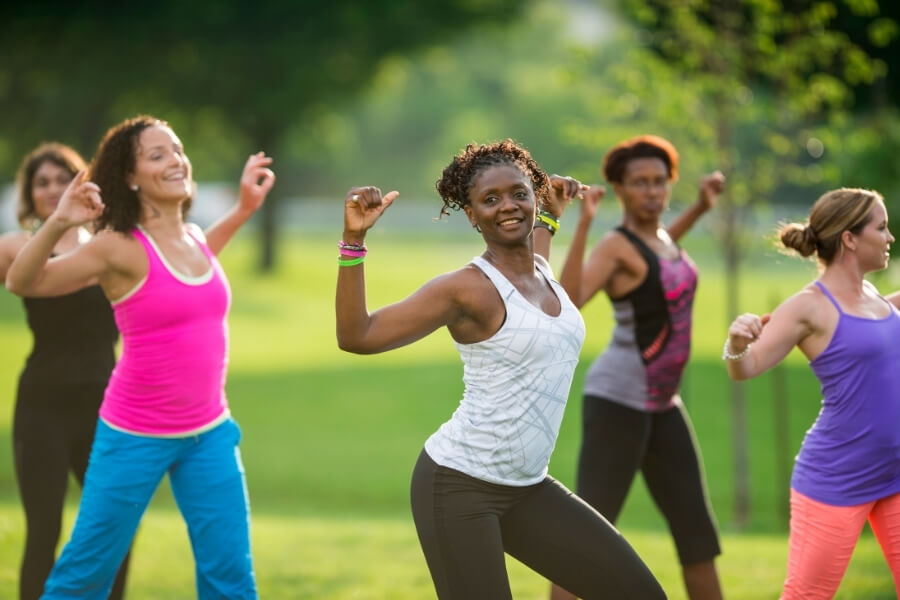 Exercising outside has several proven health benefits. Even short spans of 10 to 15 minutes in the open air can be beneficial. Some unique benefits that often surprise people include:
Outdoor activity is a natural antidepressant

Exercising on outdoor terrain can be more challenging

Exercising outdoors is usually cheaper

Assess to outdoor activities is typically easier
There are many types of outdoor fitness classes available in D.C., depending on the season. Warm months have the most to offer, but there are options for the cold weather buffs too.
Outdoor Fitness Classes in D.C.
Fitness classes held outdoors in the D.C. area include yoga, strength training, running, Pilates, and high-intensity interval training (HIIT). No matter how you want to work out, you can find a way to do it outside in D.C.
FIT360 DC
3058 Mt. Pleasant St. NW
Washington, DC 20009
202-588-0988
This D.C. gym has everything you'd expect a gym to have, and sometimes they take it outside. The folks at FIT360 DC provide an array of outdoor classes, including strength training, HIIT, Yoga, and athletic conditioning. They also have certified personal trainers who work with clients' strengths and weaknesses to build a better body in an outdoor environment. Classes are held outdoors in the summer and fall.
YOKO Fitness
3058 Mt. Pleasant St. NW
Washington, DC 20009
202-487-5741
Yoko Fitness is personal training from NASM (National Academy of Sports Medicine) certified trainer Cornelius Yoko. He offers services tailored to his clients' needs to achieve a specific result, such as boxing, boot camps, body sculpting, and sport-specific training. He also provides classes for pre and post-natal women. All classes are offered indoors or outdoors when weather permits.
Past Tense
3221 Mt Pleasant St. NW
Washington, DC 20010
202-462-9642
Past Tense is a community-oriented yoga studio. They offer an online community and on-demand videos in addition to a full spectrum of yoga classes indoors and out. Classes are based on vinyasa yoga and are available for all skill levels. Their sessions are held in the studio, outdoors, or at clients' workplaces.
Cut Seven
1401 Swann St. NW
Washington, DC 20001
202-599-6772‬
This full-service gym focuses on total body fitness. Clients target specific muscle groups with a wide array of gym equipment and fitness classes. The 2,000-square-foot open-air studio is used for yoga, Pilates, HIIT, spin, and cardio classes.
Hustle
101 District Square SW
Washington, DC 20024
Sunny Miller of SoulCycle fame launched her own workout group in Hustle DC, where members participate in high-impact workouts and strength training. She also offers outdoor classes in HIIT and cycling at The Wharf's pier. Members also have access to virtual and on-demand courses.
The REACH at the Kennedy Center
700 F St., NW
Washington, DC 20566
202-416-8000
Saturdays in summer are for outdoor vinyasa yoga classes at The REACH at the Kennedy Center. It's limited to 50 participants, and although there is no registration, a waiver is required. Instructors are yogis from various D.C. yoga studios.
Barry's
1345 19th St. NW
Washington, DC 20036
202-758-0789
This upscale gym offers daily outdoor classes in their signature high-intensity workout using weights and bands. Participants enjoy curated playlists from silent headphones during every activity. This gym provides many extras such as clean towels, toiletries, and a fuel bar full of protein-packed snacks, shakes, and water.
Mint DC
1724 California St. NW
Washington, DC 20009
202-470-5238
The D.C. gym offers outdoor class packages in HIIT, Zumba, Pilates, cycling, rowing, barre, strength training, and boxing. Class packages include gym use and virtual and on-demand classes. It holds its outdoor classes at the Marie Reed Community Center's field in Adams Morgan.
Boot Camp With Jenny
100 Potomac Ave., SW
Washington, DC 20009
Fitness trainer Jenny Harper hosts her signature boot camps outside Audi Field on Mondays, Wednesdays, and Fridays. Participants can catch two classes each day – either an hour-long session or a 45-minute version. The workouts include a blend of strength training and cardio blasts using bodyweight and neighboring stairs and benches. All participants are required to bring resistance bands and mats.
Rock Creek National Park
5200 Glover Road NW
Washington, DC 20015
202-895-6000
Rock Creek National Park is a perfect environment for any outdoor exercise. There are 1,754 acres of beautiful flora and fauna to enjoy while running, hiking, and biking. Visitors enjoy the civil war relics and opportunities to learn about boating, horseback riding, tennis, and golf.
D.C. is a beautiful place to live a life of urban wellness. Enjoying its splendor during a fitness class is an excellent perk of local life and a fun way to meet the neighbors.
Life at The Vintage on 16th Couldn't Be Sweeter
Savoring every moment of life isn't hard in D.C., but it helps when you have a community aligned with that approach. DARO Management Apartments offers a collection of boutique and vintage apartment buildings in Maryland and Washington, D.C., with modern finishes.
Our long list of amenities includes a 24-hour fitness center and a bike room with a repair station because we want to further your wellness pursuits. Contact The Vintage on 16th to speak with a leasing agent about available apartment homes.